La firma colombiana Godoy Córdoba obtuvo el reconocimiento de 'Great Place to Work'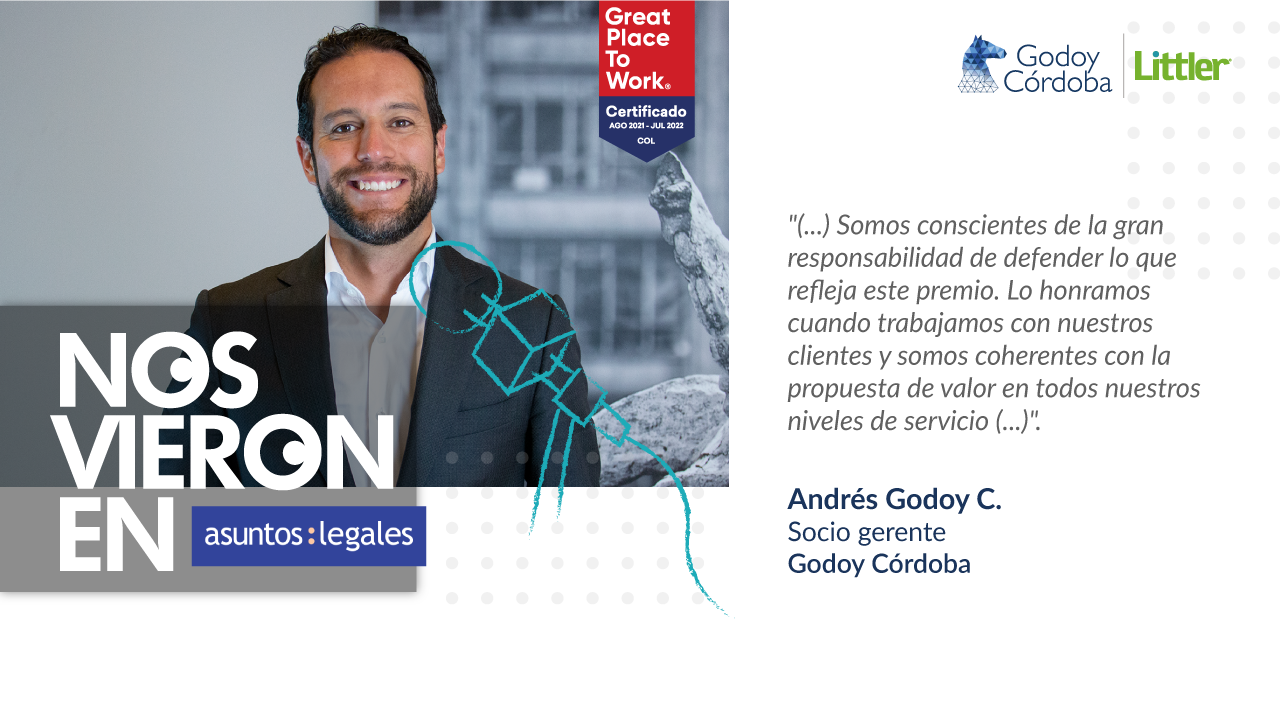 Monday, November 22, 2021
Con Andrés Godoy, Socio gerente de Godoy Córdoba, para Asuntos Legales, del Diario La República.
La consultora internacional evaluó aspectos organizaciones como la credibilidad y la imparcialidad para otorgar esta certificación.
La firma Godoy Córdoba fue certificada como 'Great Place to Work', lo que la convierte en la primera firma nacional de servicios legales en obtener este reconocimiento.
Andrés Godoy, socio gerente del bufete, celebró la decisión y manifestó que "este es el resultado de lo que representa la Firma en nuestras carreras y en nuestras vidas, y que sea tan positivo no solo da cuenta de que estamos haciendo bien las cosas, sino de que podemos seguir construyendo mucho más".
La consultora evalúa el ambiente organizacional de las compañías y las califica por las categorías de credibilidad, imparcialidad, orgullo, camaradería y respeto. La medición evaluó el ambiente laboral de cerca de 7.200 organizaciones en 51 países del mundo.
Great Place to Work se enfocó, especialmente, en cómo se ha manejado en aspectos laborales el tema de la pandemia del covid-19 y el impacto y el cambio que ha tenido sobre el ambiente de las organizaciones como, por ejemplo, el teletrabajo y la alternancia.
"Somos conscientes de la gran responsabilidad de defender lo que refleja este premio. Lo honramos cuando trabajamos con nuestros clientes y somos coherentes con la propuesta de valor en todos nuestros niveles de servicio", concluyó Godoy sobre la certificación.
---
Haz clic aquí para leer la nota en el medio.